Best Craft Cocktails
The Top Craft Cocktail Recipes from Bars Across America
Crafted cocktails are all the rage now. Fresh produce is making its way from farmers markets into specialty artisanal cocktails in bars across the U.S. The hand-crafted cocktail movement involves the use of fresh ingredients, homemade mixers and premium liquors, as well as proper ice. Yes, they may be more work, but the end result of a fresh and flavorful libation certainly justifies the means.
We've compiled GAYOT's list of Top 10 Cocktails handcrafted at some of the best bars nationwide by top mixologists. If you want to try to make them at home, we've also included the cocktail recipes, too. So, even if you don't live near these cities, you can still try your hand at mixing these top craft cocktails.
For more cocktail recipes to mix at home, give one of these classic cocktails a try. And be sure to peruse our Complete Guide to Spirits for a detailed look at the best liquors available.
1. Apple Julep
Courtesy of: ARTISAN LOUNGE, Las Vegas, NV, U.S.A.
Try this fruity take on the Mint Julep.
Ingredients:
2 oz. cinnamon and apple infused bourbon
1/2 oz. rock candy syrup
1/2 oz. fresh sweet and sour mix
Club soda
10 fresh spearmint leaves
2-3 thin slices of a red delicious apple
Method:
Muddle mint leaves with rock candy syrup and apple in the bottom of mixing glass. Add ice, bourbon infusion, sweet and sour mix and club soda to mixing glass. Gently rock back and forth to combine ingredients. Drop into a highball glass. Add additional ice as needed. Garnish with a mint sprig.
2. Autumn Thyme
Courtesy of: Bar Pleiades, The Surrey, New York, NY, U.S.A.
Fall into autumn with this cocktail.
Ingredients:
2 oz. vodka
3/4 oz. lime juice
3/4 oz. simple syrup
7 raspberries
2 thyme sprigs
1 dash Fee Brothers peach bitters
Method:
Muddle raspberries. Combine vodka, lime juice, simple syrup, raspberries, bitters and one thyme sprig in mixer and shake well. Strain over crushed ice in a rocks glass and add second thyme sprig for garnish.
3. Chartreuse Swizzle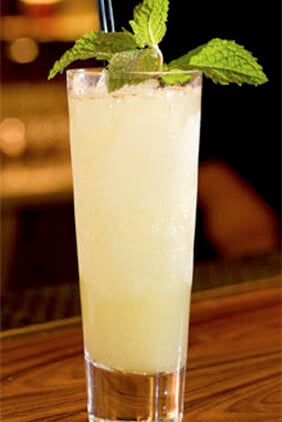 Courtesy of: Clock Bar, The Westin St. Francis, San Francisco, CA, U.S.A.
Go green with this citrus-centric cocktail.
Ingredients:
1 1/4 oz. green chartreuse
1/2 oz. velvet falernum*
3/4 oz. fresh lime juice
1 oz. fresh pineapple juice
*Falernum is a classic cordial from Barbados that is often rum-based and includes the flavors of lime, ginger, cloves and almonds.
Method:
Combine all ingredients in a tall glass. Add crushed ice and stir. Garnish with grated nutmeg and mint sprig.
4. Claret Swizzle
Courtesy of: Naga, Bellevue, WA, U.S.A.
Get tropical with this tiki cocktail.
Ingredients:
1 oz. Wray & Nephew Jamaican Overproof Rum
1 oz. Bordeaux Wine Falernum*
1 dash Angostura Bitters
1 oz. fresh lime juice
1 oz. fresh orange juice
1 oz. fresh pineapple juice
*Bordeaux Wine Falernum
Reduce 1 bottle of Bordeaux blend red wine over medium heat down to 50% with the zest of 6 limes, 20 whole cloves, 2 oz. lime juice and 1 cup of chopped ginger. Once the wine has been reduced, take off heat and allow to cool. Use cheese cloth to strain and make sure to squeeze out the last bits. Add 1 tsp. of almond extract and sweeten the remaining liquid with an equal amount of sugar.
Method:
Add all ingredients to a tiki mug or large glass and fill with crushed ice, swizzle to mix and top with additional crushed ice. Then top with 1 ounce of dry red wine. Garnish with a lime and brandied cherry.
5. Fox Rose Fizz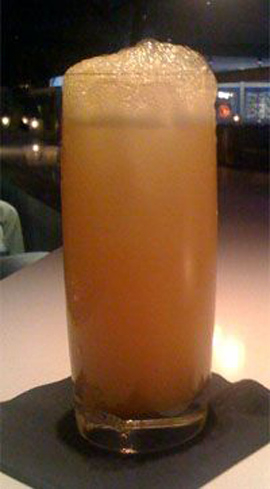 Courtesy of: DRINKSHOP, W – Atlanta Downtown, Atlanta, GA, U.S.A.
Wind down with this whiskey-based cocktail.
Ingredients:
2 oz. bonded rye whiskey
1 1/2 oz. club soda
1/2 oz. ginger syrup
1/2 oz. honey syrup
3/4 lemon juice
2 dashes Regan's Orange bitters
2 dashes Angostura bitters
2 slices orange
Method:
Muddle oranges with bitters, juice and syrups in a shaker. Add whiskey. Fill with ice. Shake to chill. Strain over fresh ice in tall Collins glass. Top with soda. Garnish with flamed orange peel.
6. Kissyomama
Courtesy of: Mercadito, Chicago, IL, U.S.A.
Add some spice to your palate with this hot cocktail.
Ingredients:
1 1/2 oz. Cazadores Reposado tequila
1/2 oz. Domaine de Canton
1 oz. mango puree
2 drops El Yucateco Green Hot Sauce
4 Thai basil leaves
3/4 oz. lime juice
1/4 oz. simple syrup
Method:
Shake all ingredients (including three basil leaves) with ice and strain in martini glass. Garnish with remaining Thai basil leaf.
7. Lucy Leave
Courtesy of: The Franklin, Philadelphia, PA, U.S.A.
Whip up this delectably fruity cocktail.
Ingredients:
2 oz. raspberry infused brandy
1/2 oz. Lillet
1/2 oz. demerara sugar
Cucumber slices
Orange slices
1 raspberry
Method:
Muddle orange slice and cucumber. Shake and strain into Collins glass filled with crushed ice. Garnish with fresh ice, an orange slice and a raspberry.
8. Pisco Nuevo
Courtesy of: Sra Martinez, Miami, FL, U.S.A.
The lychees are the highlight of this cocktail, originally created by Sra Martinez in Miami.
Ingredients:
1 1/2 oz. Pisco
1/2 oz. St. Germain
1 oz. lychee syrup (simple syrup infused with lychees)
2 lychees
Juice of 1 orange
Method:
In a cocktail shaker, combine lychee, orange juice, St. Germain and pisco. Then add lychee syrup to mix and muddle. Shake well and strain into rocks glass with crushed ice. Garnish with an orange slice.
9. The Last Tango in Modena
Courtesy of: Library Bar, The Hollywood Roosevelt, Los Angeles, CA, U.S.A.
This cocktail is berry delicious.
Ingredients:
2 oz. Hendrick's gin
1 oz. 25-year-old aged Balsamic vinegar
3-4 medium strawberries
St. Germain foam
*Foam: Add 1 cup St. Germain, 1 cup egg whites and 1 oz. fresh lime juice into an iSi charger and charge it twice with N2O and shake well.
Method:
Muddle strawberries with Balsamic vinegar. Add gin and shake. Strain over ice and top with St. Germain foam.
10. The Rose Hinted Glass
Courtesy of: Cure, New Orleans, LA, U.S.A.
Sip and savor this refined cocktail.
Ingredients:
2 oz. Landy VSOP Cognac
3/4 oz. fresh lemon juice
10 drops rose water
2 mint leaves
3/4 oz. Fennel Tea Syrup
*Fennel Tea Syrup
Add 1 tablespoon fennel seed to 1 cup hot water and steep 5-8 minutes and strain. Add 1 cup of sugar to tea and let cool.
Method:
Combine all ingredients. Shake and double strain. Garnish with mint leaf.