Farm-to-Tequila: A Visit to Casa Herradura
GAYOT explores Casa Herradura in Jalisco, Mexico which has been producing Tequila since 1870.
There is some dispute as to who first said, "No one should see how laws or sausages are made." But there's no dispute that seeing how Tequila is made is a fascinating experience.

Vodka can be distilled from potatoes, wheat, grapes or other substances. But Tequila is only made from blue agave, one of the 200 known types of agave. On a trip to Amatitán, Jalisco, Mexico, we got to visit the Herradura estate where blue agave is grown, harvested and transformed into Mexico's finest export.

Casa Herradura's official name is Hacienda San José del Refugio, and the high-walled compound once served as a refuge for Mexican Catholics who were being targeted by the government. The pastoral hacienda, where wild horses roam through the fields and some workers still live in casitas on the property, has been producing Tequila since 1870. Close to the town of Tequila, the estate is about an hour's drive from Guadalajara, but visitors can opt for the Tequila Express, a train that connects the estate with Mexico's second-largest city.
Behind the Scenes
We received more than a behind-the-scenes tour; we got to handle a coa, a circular blade with a long handle weighing about 15 pounds used to harvest and clean the pencas (leaves) off the blue agave plants. Stabbing at the large plant while trying to keep it from moving made us wish we had worn steel-toed boots. The jimador — the name for the agave field worker, as well as the name of Mexico's best-selling brand of Tequila, also produced by Herradura — has a delicate balancing act: he must cut away as much of the leaf as possible, so the Tequila does not have a bitter taste, but if he cuts off too much, then he is wasting the crop. While we struggled with my single plant, we learned that the jimadores harvest and clean a whopping 120 of these in every 6-1/2-hour shift.
The Process
After five to ten years of growth, an average piña (agave heart) weighs about 75 pounds, which would produce about six liters of Tequila. We saw the piñas transported to large ovens where the plants are slowly baked, and even got to chew on the sweet, fibrous result. The liquid produced during cooking is combined with the juices extracted from shredding, pressing and spraying the cooked agave with water to produce the sweet mosto fresco, which is then fermented by naturally-occurring yeast. After a few days of sugar turning into alcohol, the juice, now known as mosto muerto, is distilled twice and barreled. Forget farm-to-table, it was quite enjoyable to see the whole farm-to-Tequila process, especially as we got numerous taste samples along the way.
110-Proof Tequila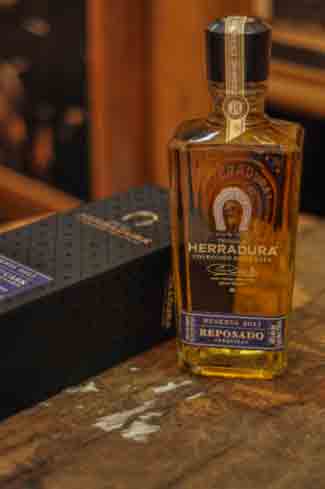 Journalists were invited to the plant to try Herradura's Second Limited Edition in its Coleccion de la Casa product line, Reserva 2013, Cognac Cask Finish Reposado. We enjoyed the release, which rests in medium-char American oak barrels for 11 months before being transferred to French oak casks that previously held Cognac or the final three months of aging. Reserva 2013, with its complex flavor profile, is available in the U.S. But we also had the privilege of trying some 110-proof Tequila directly from the pot still. Despite its strength, we found it to be delightful on the palate, with lots of pepper and lemon zest notes, a long finish and no alcoholic burn.