Handcrafted oak-fired pizzas topped with organic and area-grown products complemented by local wines and brews.

Openings:
Dinner Thurs.-Sun., Lunch Sat.-Sun.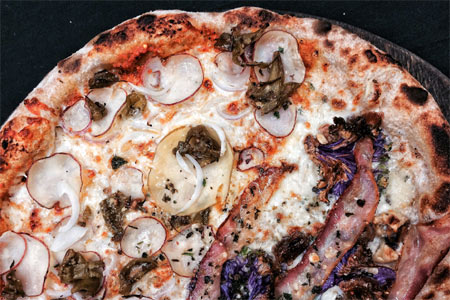 Full of Life Flatbread Restaurant Review:

Tiny Los Alamos is having a food awakening, and at the forefront of it all was Full of Life Flatbread, which opened in 2003. Local purveyors of produce, fish, fowl and meats are proudly noted on the menus, and the beverage lists celebrate local labels, too. Seasonal favorites have included roasted asparagus topped with a farm fresh poached egg; fava and summer squash soup; and 7 Lily Flatbread featuring items from the Lily family, such as shallots and scallions. For dessert, it's hard to pass up the Los Alamos S'more. House-made black cherry and toasted almond ice cream didn't disappoint, either. Be prepared for a wait, especially on Friday and Saturday evenings. Patrons might also check out the Sunday brunch service.
---