Full of Life Flatbread
225 Bell St. (Den St.)
Send to Phone
805-344-4400
| Make Restaurant Reservations
Handcrafted oak-fired pizzas topped with organic and area-grown products complemented by local wines and brews.
Open

Dinner Thurs.-Sat. & Sunday Supper

Features
* Click here for rating key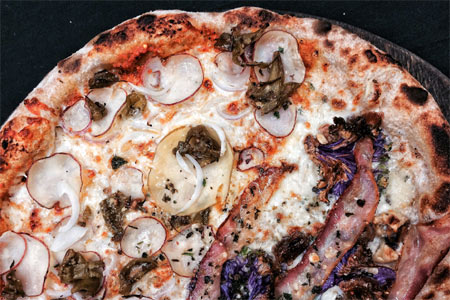 Full of Life Flatbread Restaurant Review
: Located in Los Alamos, about midway between Santa Barbara and San Luis Obispo, Full of Life has been championing sustainable and locally sourced organic foods since it opened in 2003. The menu changes weekly depending on what is available in Ventura, Santa Barbara and San Luis Obispo counties. The inventive seasonal fare might include smoked heirloom tomato soup with goat cheese; wild salmon filet cured with wild fennel and beets; and house-made lamb, goat or heritage breed pork sausage. Flatbreads --- cooked in the festive wood-burning oven in the middle of the dining room --- may be finished with a variety of toppings, from basics such as pork belly and goat cheese to Coachella Valley dates and pistachios. For dessert, try the Los Alamos S'more that's always on the menu, or go for a fruit tart. Exclusively local wines and several craft beers on tap are available. Be prepared for a wait to be seated, especially on Friday and Saturday evenings. (Take the opportunity to stroll through the cute small town, which is having a renaissance.)

Sign up to receive the 2016 edition of GAYOT's Annual Restaurant Issue, which will feature the Top 40 Restaurants in the U.S. and more.