Le Grand Colbert
2, rue Vivienne
Send to Phone
01 42 86 87 88
| Make Restaurant Reservations
Métro: Bourse/Pyramides
Such a classic Paris brasserie.
Open

Open daily until 1am

Features
Valet parking
Dress code: Casual Dressy
* Click here for rating key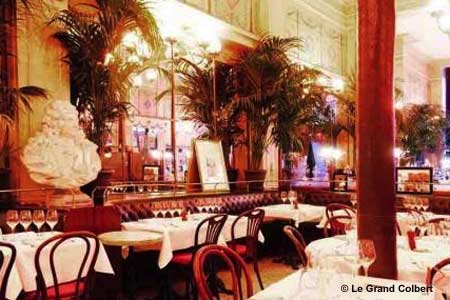 Le Grand Colbert Restaurant Review
: This is such a classic Paris brasserie that Jack Nicholson and Diane Keaton, along with Keanu Reeves, chose to dine there for their only dinner in Paris in the movie Something's Gotta Give. Parisians have always frequented Le Grand Colbert for the typical brasserie cuisine---oysters and shellfish, andouillette ficelle, boeuf gros sel, and roasted chicken with fresh herbs---served in this sprucely restored historic monument complete with frescoes and ornate plasterwork, brass railings and painted glass panels. The cozy atmosphere continues to be popular. Expect a warm welcome and swift, smiling service.