Charity Wine Auction Tips
Going, Going, Gone!
by Greg Quiroga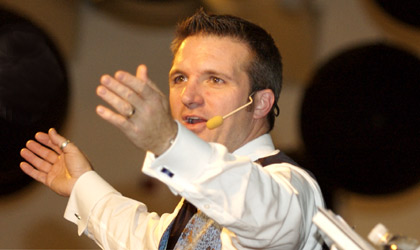 Greg Quiroga at work
10 Tips for Getting the Most Out of a Charity Wine Auction
San Francisco native Greg Quiroga presided over a whopping 63 auctions in 2007. Greg took the time from his duties at the firm of Reynolds & Buckley, which helps charities nationwide create successful fundraising auctions, to pass on his wine auction tips exclusively to GAYOT readers.
Charity wine auctions are great opportunities to meet vintners, discover new wines, make friends, and have a blast supporting great causes. There are hundreds of fundraising wine auctions that take place in the U.S. alone these days, so getting the most out of them takes a little pre-planning on your part.
1. Determine your personal goals for the event: do you simply want to taste lots of wines and party with friends while you watch the auction, or are you looking to bid and win?
2. Find the charity event that is going to be best suited to your goals. There are hundreds of fundraising wine auctions in the US, and if you do a little research you can find the one best suited to you and your budget. Some of my favorite wine events are for schools that the vintners' children attend.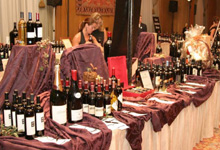 A silent auction
3. If you and friends are organizing a table, leave room for at least two couples you've never met. Keep an open mind and make new friends.
4. If you can, get the auction catalog in advance of the event, so you can do your homework before the auction. This will give you a chance to determine which lots you are most interested in, highlight them and estimate what they are worth to you.
5. If you plan on tasting, have a designated driver or hire someone to take you to and from the event. Better yet, stay on-site if the event is being held in a hotel.
6. Use the opportunity to taste the wineries that are on your radar, but be sure to try new things. If you are part of a large group, check in with each other to see if there is a "must taste" wine you've never heard of, or a wonderful vintner you have to meet.
7. Give yourself a budget and have fun bidding within your means. Bidding really enhances the good time of the evening even if you don't ultimately win. Plus, you help the charity by getting the dollars up.
8. Form consortiums to bid on multi-person lifestyle packages such as winemaker's dinners or chef's tastings. Your group will have a great time bidding, and if you win you'll all get to know a chef or vintner on a whole different level.
9. Ask to get on vintner's mailing lists, and when you visit their winery be sure to mention that you saw them at the event.
10. For maximum enjoyment, make a vacation out of it. There are many multi-day food & wine festivals across the U.S. that vintners from all over the world support. Taste of Vail (www.tasteofvail.com), Santa Fe Wine & Chile Fiesta (www.santafewineandchile.org) and the Central Coast Wine Classic (www.centralcoastwineclassic.org) are three auctions that combine a great location with an amazing assortment of fun, food, and wine.
Bonus tip: find out how many wine events the auctioneer does, and see if there are any he or she highly recommends you look into.
More Features

* Photo of Greg Quiroga by Israel Valencia, taken at the di Rosa Preserve's 2007 "Moon Proof Madness" event; silent auction photo by Team Photogenic


| | |
| --- | --- |
| PLH120607 | (Updated: 09/12/13 BH) |