Previously Featured
Top Exotic Sports Cars
From their loud growls, to their aggressive exteriors, to their hair-raising high speeds, our favorite exotic cars are sure to cause a stir wherever they speed. Carefully crafted by top marques like Lamborghini and Maserati to maximize both performance and visual appeal, these elusive vehicles are often found in coffee table books and rap videos but rarely on the road. Whether you're in the market for a new addition to your fleet, or are simply looking for new daydream material, here's your chance to get an up-close look at some of the hottest rides on the road today.
---
Aston Martin DB9 Volante
A gorgeous and refined V12-powered convertible.

Read more
---
Ferrari F12 Berlinetta
A 730-horsepower, 210-mph true exotic.

Read more
---
Morgan Aero Supersports
This hand-built retro speedster marries a lightweight bonded aluminium chassis with a BMW-derived V8 engine to achieve performance that belies its antique appearance.

Read more
---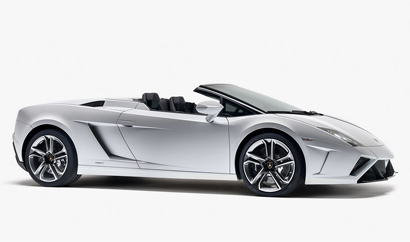 Lamborghini Gallardo LP 560 Sypder
A convertible version of Lamborghini's groudbreaking Gallardo LP 560.

Read more
---
Rolls Royce Wraith
The most powerful road-going car Rolls-Royce has ever produced, the Wraith combines traditional vault-like solidity with truly sporty acceleration.

Read more
---
---
Maserati GranTurismo Sport
Though more of a Grand Tourer than a true sports car, the manta-inspired GranTurismo sport nonetheless performs strongly, thanks to a high-revving V8 and a rear-mounted transaxle for balanced handling.

Read all about this four-seat sports car
---
Fisker Karma


This unique hybrid sports car delivers high-performance fun with a low environmental impact. Already turning heads and attracting celebrity clientele, the Fisker Karma is a welcome alternative to the current class of gas-guzzlers that populate the luxury car segment.
---
Aston Martin Virage Volante


Showcasing sleek sheet metal and a hand-built 5.9-liter, 490-horsepower V12 engine, the Aston Martin Virage Volante convertible makes for the perfect summertime ride — that is, if you can afford the $200,000+ point of entry.
---
Maserati GranTurismo Convertible
This drop-top version of the GranTurismo features all of the power and performance of Maserati's distinctive speedster, now with the added attraction of open-air cruising. And with the GranTurismo Convertible's roomy interior and full back row seating, feel free to share the high-speed fun with your friends.
---
---