Open

Dinner nightly

Features
Valet parking & parking garage
Dress code: Casual dressy
Entertainment: Light show nightly
Reservations suggested
* Click here for rating key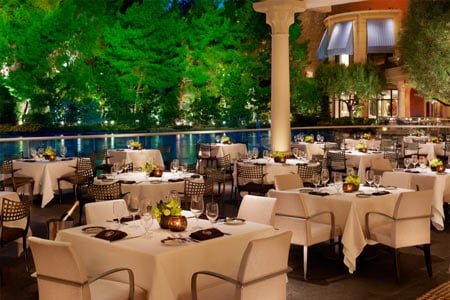 SW Steakhouse Restaurant Review
: Wynn Las Vegas visionary Steve Wynn has his initials written all over this vibrant steakhouse. To reach it, diners ride down a regal, winding escalator and enter the spacious foyer furnished with plush chairs and couches and a dazzling bar. They are then seated in the elegant dining room or on the patio facing Wynn's Lake of Dreams, backed by a lush forest with a calming water wall on which a light show is presented nightly. For an appetizer, try the sautéed Hudson Valley foie gras with strawberry chutney, rhubarb broth and sherry reduction; or the king crab soup with Old Bay, tomato, aromatic vegetables and puff pastry croutons. Roasted garlic and lemon sauce accents the 14-ounce broiled veal chop. Traditionalists like the nine- or 12-ounce filet mignon, the 16-ounce New York steak and the 20-ounce bone-in rib-eye, offered with béarnaise, jalapeño-tropical fruit or signature SW steak sauces. The fare is complemented by a choice of 800 wines. The playful presentation of funnel cake, set among branches of a metal tree and served with huge strawberries and chocolate and caramel dipping sauces, is among SW's sweet temptations. As with all Wynn restaurants, a menu featuring vegan selections is offered.
BE IN THE KNOW
New Restaurants in Las Vegas
Find all the Las Vegas restaurants that have opened recently with GAYOT's round-up.

See What's New in Las Vegas!
Discover the best female chefs, top pizzerias and stellar seafood restaurants with GAYOT's Top 10 lists of the best restaurants in America.