702-731-SAVOY (7286); 877-346-4642
Map
Guy Savoy's Las Vegas temple of gastronomy opens your eyes and mind.

Openings:
Dinner Wed.-Sun. 5:30 p.m.-9:30 p.m.
Features
Valet parking & parking garage
Dress code: Jackets suggested
Reservations suggested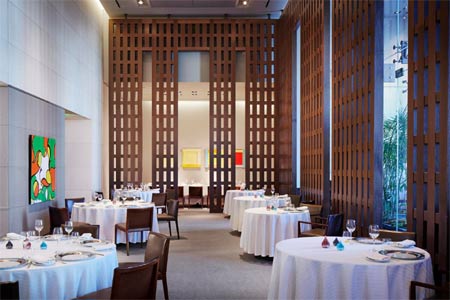 Restaurant Guy Savoy Restaurant Review:
About the restaurant:
Expect an all-encompassing experience for the eyes and taste buds at Restaurant Guy Savoy at Caesars Palace. It is the only place in America where the celebrated French chef has stoves, and beautiful ones that you can admire if you have chosen the Krug Chef's Table looking out on the kitchen. Proceed through the massive wood doors of the restaurant's entrance on the second floor of the Augustus Tower, and get ready for a culinary mass. Architect Jean-Michel Wilmotte, who has worked with Guy Savoy for seemingly forever, conceived a deliberately simple yet elegant high temple of gastronomy in dark bracketed paneling with a cathedral-high ceiling. From the glass-enclosed patio you can glance at the Eiffel Tower replica (one-third the size of the real one) at Paris Las Vegas.
About chef Guy Savoy and his team:
Guy Savoy, who was part of the
"Nouvelle Cuisine"
movement, practices kung fu and studies Zen philosophy. For him, whether in life or in cuisine, frills and flounces are unnecessary, hence the minimalist décor and rare bill of fare. The space may feel a bit cold to some, but we appreciate the privacy afforded by the generous spacing between the tables. We imagine it cannot be easy for a chef to be in charge of
über-chef Savoy's kitchen
. Since the opening of the restaurant in 2006, we have seen only three executive chefs at the helm. The second one, Julien Asseo, raised the bar. Under his tenure, our rating went from
18 out of 20 to 19
, the highest we give. In 2019, Nicolas Costagliola arrived to direct the team. As we said above, it is no easy task; expectations are as high as they can be. After dining, we are more than happy to tell you that Costagliola is up to the challenge.
Likes:
The service, directed by general manager Alain Alpe, comes close to perfect. The Krug Chef's Table --- dedicated to House of Krug Champagne, and the only one in the U.S. --- where guests at the six-seat table are treated to a special tasting menu ($650).
Dislikes:
Be prepared for the bill, but remember that beautiful memories will be priceless.
Savory dishes:
The dinner starts with a
motte de beurre
, a mound of French Échiré butter (the best one) to be spread on an array of breads rolled over table side on a cart, along with olive oil from Provence. The amuse-bouches might bring a foie gras club sandwich or Kumamoto oyster concassée with lemon and seaweed granité and provide a strong start to the Prestige Tasting Menu ($385). Then a parade of delicacies arrives, such as Dungeness crab topped with
caviar
on a bed of watermelon radish gelée; octopus steamed cold tableside bringing a playful show of fog; roasted wild turbot flown in from Brittany, France; seared foie gras topped with sea urchin; in-season white truffle risotto; a "sealand" A5 Wagyu and lobster. The artichoke and black truffle soup, toasted mushroom brioche, and black truffle butter is a Savoy classic that should not be bypassed, and this sentiment also applies to his "Colors of Caviar." In the fall, another definite must-have is the "Marmite," composed of wild squab, pheasant, duck and foie gras on cabbage --- see the note on the menu: "Due to the use of wild game on this dish, please be aware that there may be buckshot found in meat." The cheese cart, featuring French cheeses exclusively, is a real tempting option ($35 supplement).
Desserts:
We will not reveal the composition of the "Coconut Six Ways" as this dessert should be a surprise in your mouth, but we are sure you will not forget it after working your spoon in it. You should also try the s'mores reincarnation called "Chocolate and Palo Santo."
About the wine:
The Bible-thick wine list is mainly French and heavy on Champagnes, but there is also saké and selections from Hungary, Australia, Italy, Spain, Chile and elsewhere. Be sure to browse the incredible collections of Richebourg and Romanée-Conti --- Savoy loves Burgundy.
---

---
---