Contemporary Japanese cuisine in a visually distinctive setting cast around a large open kitchen.

Openings:
Dinner Mon.-Sat.
Features
Dress code: Dressy casual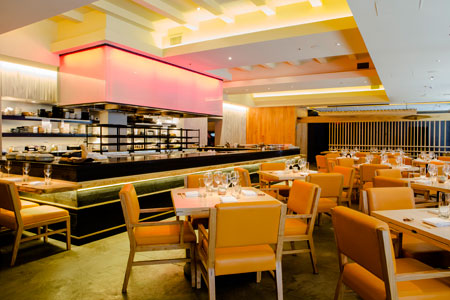 Roka Akor Restaurant Review:

San Francisco's Roka Akor delivers contemporary robatayaki (open grill) Japanese cuisine in a highly stylized setting. "Ro" means hearth and "ka" means burning fire; a hearty fire with a ladder of grills above it, allowing different intensities of heat, is center stage in the large open kitchen that anchors this vast, modern, burlwood and tall-windowed space. Dishes are artful and sometimes oversized, and include quality sushi along with seafood and steaks, among them a Wagyu filet, Prime dry-aged rib-eye and Wagyu sirloin. A sashimi starter is served on an enormous bowl of ice festooned with decorative accents. Lobster tempura, in pieces, is returned to the shell, given a coral-like embellishment, and then is topped with Himalayan pink salt shaved tableside. Buttery cod arrives under a folded fan crafted from a single leaf. A robust dessert platter for two offers house-made frozen delicacies such as sorbets and ice creams and a creamy apricot vanilla usugiri. The wine list is extensive, international and features a copious array of sakés, many by the glass or carafe. Roka Akor has additional stateside locations in Chicago and Scottsdale.
---