---
---
Open

Dinner nightly

Features
Valet parking & parking garage
Dress code: Casual dressy
Entertainment: Light show nightly
Reservations suggested
* Click here for rating key
---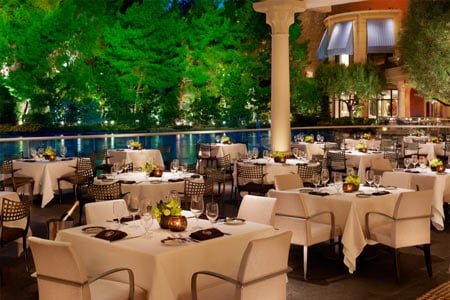 ---

Operations may be disrupted due to COVID-19. Be sure to contact the restaurant to find out its current status and offerings.


---


SW Steakhouse Restaurant Review
: Wynn Las Vegas visionary Steve Wynn has his initials written all over this vibrant steakhouse. To reach it, diners ride down a regal, winding escalator and enter the spacious foyer furnished with plush chairs and couches and a dazzling bar. They are then seated in the elegant dining room or on the patio facing Wynn's Lake of Dreams, backed by a lush forest with a calming water wall on which a light show is presented nightly. For an appetizer, try the sautéed Hudson Valley foie gras with strawberry chutney, rhubarb broth and sherry reduction; or the king crab soup with Old Bay, tomato, aromatic vegetables and puff pastry croutons. Roasted garlic and lemon sauce accents the 14-ounce broiled veal chop. Traditionalists like the nine- or 12-ounce filet mignon, the 16-ounce New York steak and the 20-ounce bone-in rib-eye, offered with béarnaise, jalapeño-tropical fruit or signature SW steak sauces. The fare is complemented by a choice of 800 wines. The playful presentation of funnel cake, set among branches of a metal tree and served with huge strawberries and chocolate and caramel dipping sauces, is among SW's sweet temptations. As with all Wynn restaurants, a menu featuring vegan selections is offered.
---
TRENDING ON GAYOT.com

> PRIMO PIES: Best Pizza Restaurants Near You. See the lists.

> LAS VEGAS DINING: Al Solito Posto Is Another Masterpiece by Chef James Trees. Read GAYOT's review.

> WINE PICKS: The 13 Best Sauvignon Blanc Wines in 2022. See the list.
---
GAYOT's Wine & Spirits Editor presents the
Wine of the Week, featuring tasting notes as well as history on the vineyards and winemaker.

The view is not the only reason to dine at Calabra in Santa Monica, CA.
Read the review and see photos
.