2022 Best Steakhouses in the U.S.A.
Top 10 Steakhouses in America
Food trends take off then fizzle out, but steakhouses always seem to be in style. Some have stayed relatively the same for more than a century while others innovate this classic concept.

GAYOT's list of the Top 10 Steakhouses in the U.S.A. includes an Indianapolis landmark, a Philadelphia spot with a sexy '40s supper club vibe, and an elegant Southern California restaurant. These selections are presented in alphabetical order.

> Check out GAYOT's:
- Best Steakhouses Near You
- Best Steak Wines
- Meat Guide | All About Meat.
American Cut steakhouse in New York's TriBeCa neighborhood is an 80-seat temple of red meat. The indecisive carnivore might have a difficult time deciding what to order. Let us help: the 20-ounce bone-in rib-eye, dusted with pastrami spices, is unique and explosive in meaty flavor. See More
Book a Table
View Restaurant
Baltaire in Los Angeles is a contemporary steakhouse that still exudes elegance and sophistication. Choose from a porterhouse, bone-in rib-eye, Kansas City or New York strip, tomahawk rib-eye or the very luxurious and decadent A5 Japanese Wagyu. See More
Book a Table
View Restaurant
Bazaar Meat by José Andrés in Las Vegas is a celebration of the carnivorous. This massive, Philippe Starck-designed space has a viewing area sectioned off where it displays cured meats, plus a fire stage of sorts showcasing wood grills and rotisseries. Steaks come out sliced to share, like the Châteaubriand tenderloin accompanied by a red wine and truffle Perigord sauce and pommes soufflé. See More
Book a Table
View Restaurant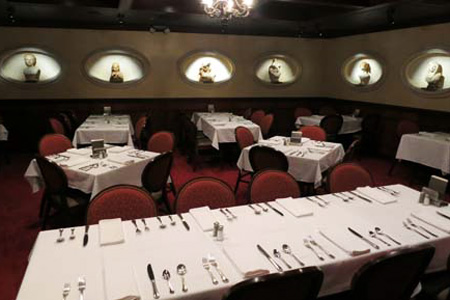 Philadelphia's Butcher & Singer, from restaurant mogul Stephen Starr, exudes a sexy '40s supper club vibe. Sink into a leather-tufted booth with a perfect Manhattan and get ready for some first-rate beef, buttery, juicy and salty-seared on the outside. See More
Book a Table
View Restaurant
Competition is stiff among steakhouses in the Big Easy but Chophouse New Orleans rises to the challenge. The menu features USDA Prime steaks, including some giant cuts (check out the 40-ounce porterhouse), as well as dishes highlighting Gulf-sourced seafood. See More
Book a Table
View Restaurant
Steakhouse
,
American
,
Seafood
Denver's modern, splurge-worthy and sexy steakhouse Guard and Grace is a carnivore's nirvana. The beautifully seasoned bone-in rib-eye is a head-turner on every level. See More
Book a Table
View Restaurant
Steakhouse
,
American
,
Breakfast
McKendrick's has long held destination-steakhouse status in Atlanta. The restaurant turns out skillfully prepared meat in a white tablecloth setting, complemented by an extensive red-focused wine list. If dining with a chum, consider sharing the porterhouse steak. See More
Book a Table
View Restaurant
This Indianapolis landmark — open since 1902 — is a favorite of visiting VIPs as well as local politicians, pro athletes and top entertainers. The atmosphere at St. Elmo Steak House is a little bit clubby mixed with the aura of an old-time New York steakhouse. Aged steaks are skillfully cooked. See More
Book a Table
View Restaurant