Celebrities and Wine
Bottled Bombshells and Bad Boys
By Jeff Hoyt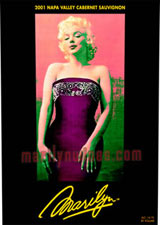 Bombshell in a bottle
With celebrities selling everything from alpha hydroxy cream to Omega watches, it's no wonder they're also being used to peddle wine. But while some actors and singers are happy to lend their name and their fame to wineries just to get a paycheck, others are buying up vineyards and critiquing barrel samples. There are some superstars who don't have a choice whether to participate in the winemaking process, because instead of picking grapes, they're pushing daisies.
Marilyn Merlot sounds like a punch line to a joke, but if you owned a bottle of the '85 output, you'd be laughing all the way to the bank. You could hawk that particular collector's item for about $3,000. The blonde bombshell's estate has lent her name to Marilyn Wines, which produces Marilyn Merlot, Marilyn Cabernet, Norma Jeane (Monroe's birth name) and the Velvet Collection, which features a "peel and peek" label of her nude portrait with her most private areas covered by a removable plastic overlay.
You can toast to Marilyn posing on velvet, and to Elvis being painted on it with Velvet Elvis Cabernet Sauvignon from Graceland Cellars, which produces The King Cabernet Sauvignon, Jailhouse Red and Blue Suede Chardonnay. Clos du Bois in Sonoma County has partnered with the late Grateful Dead guitarist Jerry Garcia's estate to produce J. Garcia Chardonnay and J. Garcia Merlot. The rest of us are grateful that the label consists of Jerry's own artwork as opposed to a nude portrait.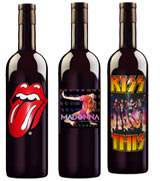 Celebrity Cellars bottle rock 'n' roll
You don't have to be a dead musician to have your name on a bottle (although the jury is still out on the Elvis Presley wines). Despite a bad boy rocker image and DUI conviction, Mötley Crüe's lead singer Vince Neil sells a very civilized Vince Vineyards 2003 Napa Cabernet Sauvignon as well as a 2003 Vince Vineyards Sonoma County Chardonnay. California-based Celebrity Cellars bottles wine with labels licensed from Kiss, Rolling Stones and Madonna. Although the artists differ musically, the same wines are sold in different performers' bottles. When Madonna's father Silvio, who runs Ciccone Vineyard and Winery in Suttons Bay, Mich, critiques his daughter's wines, she probably says, "Papa, don't preach!"
Some singers prefer to see their names on marquees rather than wine labels. Mick Hucknall, lead singer of Simply Red, kept his name off of his Etna Rosso DOC, a blend between Nerello Mascalese and Nerello Cappuccio, but named his Sicilian winery Il Cantante (The Singer). Similarly, British pop star Sir Cliff Richard named his Portuguese label Adega do Cantor (The Cellar of the Singer). Bob Dylan, who sang "Businessmen, they drink my wine" in "All Along the Watchtower," has an Italian wine named after his album, Fattoria Le Terrazze 2002 Planet Waves.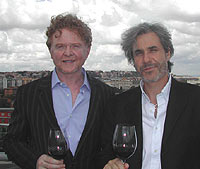 Simply Red's Mick Hucknall and partner, oenologist Salvo Foti
Actors aren't immune to naming wine after themselves. Before Fess Parker opened one of the most-visited wineries in Los Olivos, Calif., he was playing Davy Crockett on television. Raymond Burr Vineyards in Dry Creek Valley, California has survived the death of the actor who portrayed Perry Mason. French actor Gerard Depardieu owns the Chateau de Tigne vineyards in the Anjou region of France, as well as vineyards in Sicily and a winery in Hungary. His name graces Ma Vérité de Gerard Depardieu Early Maturity.
Tommy and Dick Smothers actually took their name off their Sonoma County winery. "Originally the winery was called Smothers Brothers, but I changed the name to Remick Ridge Vineyards because when people heard Smothers Brothers wine, they thought something like Milton Berle Fine Wine or Larry, Curly and Mo Vineyards," he explains. Perhaps the most famous name removal involves director Francis Ford Coppola, who purchased the Inglenook winery in Napa Valley in 1975 and renamed it Niebaum-Coppola. He named a sparkling wine after his "Lost in Translation" directing daughter—Sofia Blanc de Blanc—and used his son's initials in naming his RC Estate Reserve Syrah. After achieving considerable success in this difficult field, Coppola recently christened the winery again, dubbing it Rubicon Estate after one of his top releases. If you think giving up the name Coppola is a bad idea, it didn't seem to hurt Francis Ford's nephew Nicholas, who decided to go by the name of Cage instead.