All-Time Best Sexy Movies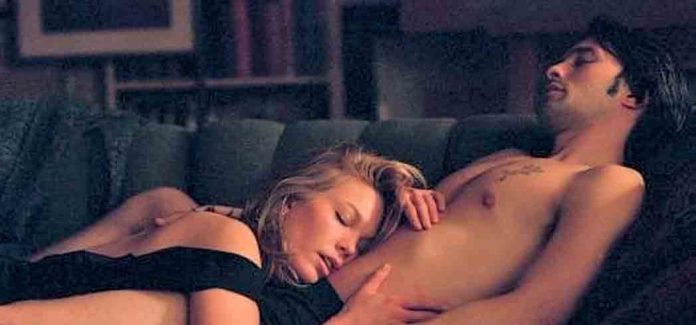 10 Best Sexy Movies
If you're looking to spend a naughty night in watching a steamy film, check out GAYOT's list of the Top 10 Sexy Movies of All Time. The choices include erotic thrillers that will keep you on the edge of your seat, as well as more light-hearted portrayals of love and lust.
Some, like 50 Shades of Grey, found popularity with mainstream audiences, while others might test a viewer's boundaries with their provocative sex scenes. Consider one of these best sexy movies the next time you invite someone over to "Netflix and chill," as the saying goes.
> JUST PUBLISHED! GAYOT's 2022 Restaurant Awards. See the Winners.
1. Last Tango in Paris
Maria Schneider and Marlon Brando star in Bernardo Bertolucci's highly controversial drama, Last Tango in Paris, one of GAYOT's Best Sexy Movies.

Directed by: Bernardo Bertolucci
Starring: Marlon Brando, Maria Schneider
Released by: Metro-Goldwyn-Mayer Pictures in 1972
Run Time: 129 min.
Genre: Drama

Considered obscene by some, and the most erotic movie ever made by others, Last Tango in Paris is as ridden with controversy today as it was in 1972 when it originally screened. Director Bernardo Bertolucci said he was inspired by the raw art of British painter Francis Bacon to tell the story of a young Parisienne (Maria Schneider) and her sordid affair with an older American man (Marlon Brando).

However, Bertolucci has come under fire for some of the practices he used to film the infamous "butter scene," in which Brando's character forces himself onto Maria Schneider and uses butter as lubricant. "I've been, in a way, horrible to Maria because I didn't tell her what was going on, because I wanted her reaction as a girl, not as an actress," the director said in a 2013 interview, which reignited the controversy surrounding the film.

Since then, there have been conflicting reports about whether the young actress was misinformed about the entire scene or just the use of butter. In any case, Schneider, who died from cancer in 2011, had been outspoken about being blindsided by the duo in a number of interviews. In 2007 she told The Daily Mail, "I felt humiliated and to be honest, I felt a little raped, both by Marlon and by Bertolucci." She also added, "I should have called my agent or had my lawyer come to the set because you can't force someone to do something that isn't in the script, but at the time, I didn't know that."
> Check out GAYOT's Wine of the Week.

2. 50 Shades of Grey
Dakota Johnson and Jamie Dornan star in 50 Shades of Grey, based on the wildly successful book by E. L. James.

Directed by: Sam Taylor-Johnson
Starring: Dakota Johnson, Jamie Dornan
Released by: Universal Pictures in 2015
Run Time: 125 min.
Genre: Drama, Romance

Based on the bestselling book by E.L. James, 50 Shades of Grey follows the erotic engagement between literature student Anastasia Steele (played by Dakota Johnson) and the handsome yet tormented billionaire, Christian Grey (Jamie Dornan). Drawn to his power and good looks, Ana is not able to resist the man that exercises control over everything in his life, which now includes her.
> Check out GAYOT's Best Sexy Restaurants.
3. The Dreamers
Michael Pitt and Eva Green star in Bernardo Bertolucci's sensual film, The Dreamers, one of GAYOT's Best Sexy Movies.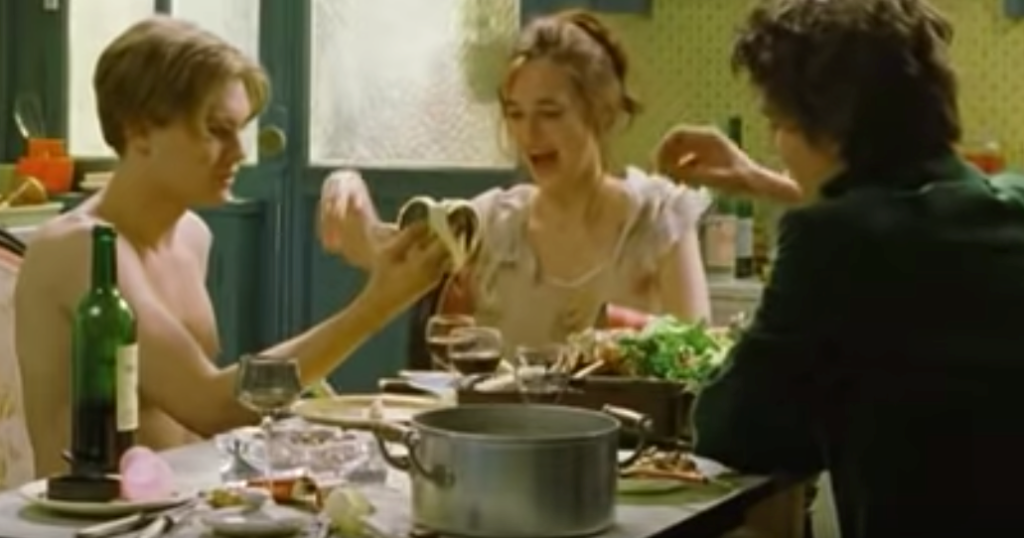 Directed by: Bernardo Bertolucci
Starring: Michael Pitt, Eva Green
Released by: Fox Searchlight Pictures in 2005
Run Time: 115 min.
Genre: Drama, Romance

From famed Italian director Bernardo Bertolucci comes this sensual cinemascape set against the backdrop of the 1968 student riots in Paris. The Dreamers is indeed a film about a group of young dreamers who create their own world isolated from the violence and uncertainty that explodes outside their apartment. When Matthew (Michael Pitt), a naïve American student, strikes up a friendship with fraternal twins Isabelle and Theo, the threesome soon becomes entangled in a spree of boundary-pushing hedonism and sexual obsession that leads to unforeseen consequences.
4. Y Tu Mamá También
Maribel Verdú, Diego Luna, Gael García Bernal star in Alfonso Cuarón's Y Tu Mamá También.

Directed by: Alfonso Cuarón
Starring: Maribel Verdú, Diego Luna, Gael García Bernal
Released by: Metro-Goldwyn-Mayer Studios in 2001
Run Time: 106 min.
Genre: Adventure, Comedy, Drama

Y Tu Mamá También is the kind of multi-dimensional film that will make you laugh and cry in a span of an hour and 46 minutes. While you intimately follow two teens from Mexico and a much older, beautiful Spanish woman venture to an imaginary beach called "Boca del Cielo," you will learn about life, love and loss. The film is highlighted by Alfonso Cuarón's tasteful humor in the midst of a charged sexual atmosphere and dramatic plot line. Though it will make you laugh, there are much deeper layers, like a subtle examination of the social and political fabric of Mexico, but with vibrant gusto for life, fun, love, and yes, sex.
> And once you are done watching these, you can continue with GAYOT's Hottest Movies.
5. Unfaithful
Richard Gere, Diane Lane and Olivier Martinez star in the erotic thriller, Unfaithful.

Directed by: Adrian Lyne
Starring: Richard Gere, Diane Lane, Olivier Martinez
Released by: 20th Century Fox in 2002
Run Time: 124 min.
Genre: Drama, Thriller

Best described by director Adrian Lyne as "an erotic thriller about the body language of guilt," Unfaithful has its share of racy scenes, but it's the drama and suspense that keep you watching. The story follows Connie (played to perfection by Diane Lane), a middle-aged wife and mother who finds excitement when she carries on an affair with a younger man. (The subway scene where Lane flashes back to her adulterous encounter showcases her ability as an actress to take you inside her character's intensely conflicted mind and body.) When her husband Edward (Richard Gere) discovers the truth, it leads to unexpected and horrifying actions that are far from the idyllic family life they had hoped to create.
> If you prefer reading to tap into your sensual side, you'll love GAYOT's list of Best Sexy Lingerie.
6. Sex and Lucia
Paz Vega stars Julio Medem's Sex and Lucia, winner of Spain's prestigious Goya Award, and is one of GAYOT's Best Sexy Movies.

Directed by: Julio Medem
Starring: Paz Vega, Tristan Ulloa, Nagwa Nimri
Released by: Palm Pictures in 2001
Run Time: 128 min.
Genre: Drama, Romance

While Sex and Lucia features beautiful women (Paz Vega, Najwa Nimri and Elena Anaya) and beautiful scenery (the island of Formentera in the Balearics), the plot is difficult to unravel. Weaving past and present, fact and fiction, it concerns a struggling writer always on the edge of tragedy and the amorous entanglements that inspire his work. Sizzling on the beach wearing nothing but mud in one scene, Vega has earned numerous awards for her revealing role, including Spain's prestigious Goya Award.
7. Quills
Geoffrey Rush and Kate Winslet star in this sexy 19th-century thriller.

Directed by: Philip Kaufman
Starring: Geoffrey Rush, Kate Winslet, Joaquin Phoenix
Released by: Fox Searchlight Pictures in 2000
Run Time: 124 min.
Genre: Drama, Romance, Thriller

This lusty tale is fictional, but it delves into the dark, twisted and licentious mind of the real-life Marquis de Sade, the infamous 18th century French libertine who was so shocking he was institutionalized most of his life. (He's the reason the word "sadism" exists.) Focusing on the Marquis' final years in an insane asylum, Quills doesn't hold back on the brazen sexual appetite of its main character (brilliantly portrayed by Geoffrey Rush, who received an Oscar nomination for this role), but it's neither crude nor pornographic. Rather, it pulls viewers into the inner turmoil and sadistic mental games that take each character to the edge, whether it's the Marquis' spunky laundress Maddie (Kate Winslet), his doctor (Michael Caine) or the asylum priest (Joaquin Phoenix).
8. Bitter Moon
Emmanuelle Seigner and Peter Coyote get sexy in Polanski's Bitter Moon.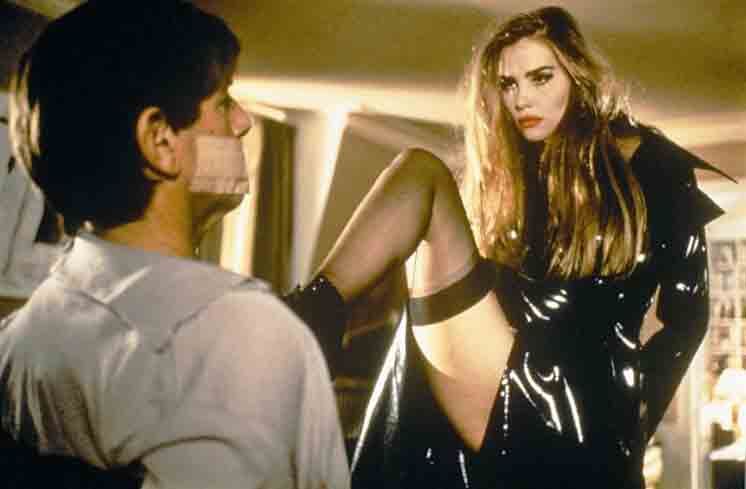 Directed by: Roman Polanski
Starring: Hugh Grant, Kristin Scott Thomas, Emmanuelle Seigner, Peter Coyote
Released by: New Line Cinema in 1992
Run Time: 139 min.
Genre: Drama, Romance, Thriller

Sometimes it's impossible to separate an auteur's art from his scandalous life (Roman Polanski's wife Sharon Tate was murdered by the Manson family; in 1977 he had to flee the United States due to charges of rape of a minor). In the case of Polanski, his salacious personal life heightens the dark sexiness pervading many of his moody movies. Bitter Moon stars Hugh Grant, Kristin Scott Thomas and Emmanuelle Seigner, Polanski's real-life wife, who is 33 years younger than her notorious husband. It tells the tale of a steamy affair of utter sexual obsession that turns into bitter hatred.
9. Body Heat
Watch Lawrence Kasdan's 80s hit, Body Heat, to amp up your hot date night.

Directed by: Lawrence Kasdan
Starring: William Hurt, Kathleen Turner, Richard Crenna
Released by: Warner Bros. in 1981
Run Time: 113 min.
Genre: Crime, Drama, Thriller

This noirish thriller stars a deliciously young Kathleen Turner and William Hurt in a passionate affair that turns murderous. Florida during a heat wave is the steamy playground for this sultry drama, and Turner, who plays a married socialite, is a veritable sex goddess who delivered the unforgettable line: "You're not very bright, are you? I like that in a man."
10. The Unbearable Lightness of Being
A steamy adaptation of Milan Kundera's classic novel, that put the movie on GAYOT's Best Sexy Movies list.

Directed by: Philip Kaufman
Starring: Daniel Day-Lewis, Juliette Binoche, Lena Olin
Released by: Orion Pictures in 1988
Run Time: 171 min.
Genre: Drama, Romance

Before the highly charged backdrop of the Prague Spring in 1960s Czechoslovakia, womanizer Tomas (Daniel Day-Lewis) juggles his love for the romantic Tereza (ingénue Juliette Binoche) with his lust for the free-spirited artist Sabina. This sexy adaptation of Milan Kundera's book is a sensuously philosophical look at such abstract concepts as Nietzsche's eternal return, trust and kitsch.