Best Valentine's Day Wines
Champagne Billecart-Salmon, Rosé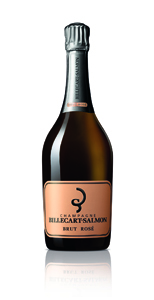 Origin: Mareuil-sur-Aÿ, France
Varietals: 40% Chardonnay, 30% Pinot Noir, 30% Pinot Meunier (with 40% reserve wines)
Price: $90.00
ABV: 12%

The wine was made by adding red wine to the cuvée, went through malolactic fermentation and remained three years on the yeast before disgorgement. Finally, it was given a dosage of 9 grams of cane sugar per liter.

A beautiful pale pink color shows as background for the very fine, energetic bubbles. The nose is very subtle and fine, displaying red berries, citrus zest and creamy apple. The palate is round, boasting fresh acidity and ripe wild strawberries finishing with pinpoint precision and elegance.

> For more information, visit the Champagne Billecart-Salmon official website.
> Watch Sophie Gayot sabering a bottle of Champagne Billecart-Salmon, Rosé with Antoine Billecart.
Champagne Chartogne-Taillet, Le Rosé
Origin: Merfy, France
Varietal: 60% Chardonnay, 32% Pinot Noir, 8% Pinot Noir – red wine
Price: $73.00
ABV: 12.5%

This rosé was made by adding 8% of Pinot Noir to the white blend and spent three years on the yeast before disgorging. The wine was finished off with a dosage of 5.5 grams per liter.

A light rosé color along with a fine effervescence appear in the glass. Aromas of raspberry, almond and sour cherries emerge in the nose. Flavors of pink grapefruit, anise, cherries and a touch of rose petals unfold on the palate framed in by a creamy texture, chalky minerality and great freshness.

> For more information, visit the Champagne Chartogne-Taillet official website.
Champagne Louis Roederer, Brut Rosé 2013
Origin: Reims, France
Varietals: 63% Pinot Noir, 37% Chardonnay
Price: $76.00
ABV: 12%

A great rosé Champagne must be made from very ripe grapes, which are sometimes difficult to obtain in the Champagne climate. As a result, Louis Roederer has chosen to invest in one of the earliest Champagne crus, Cumières, for which the steeply-sloping, shallow clay and limestone soils face south and benefit from the additional light reflected from the river Marne, enabling phenolic maturity to be achieved. In these select terroirs, Louis Roederer applies the precise winemaking methods required for the production of a saignée rosé. Brut Rosé is 100% estate-bottled from the grapes of the historic family-owned vineyards.

The wine shows a subtle pink color and a lively, fine mousse. The nose unfolds an intense bouquet of strawberry, black currant, orchard blossom, vanilla and candied orange. The well-rounded palate repeats some of the red fruit and finishes with a hint of roasted hazelnuts and a fresh, chalky minerality. Due to the decision not to carry out the malolactic fermentation, it has retained a remarkable freshness which lightens and elongates the palate.

> For more information, visit the Champagne Louis Roederer official website.
Ferrari, Trentodoc, Rosé
Origin: Trento, Ital
Varietals: 60% Pinot Noir, 40% Chardonnay
Price: $34.00
ABV: 12.5%

In 1902 in Trento, Giulio Ferrari first used the metodo classico to convert local Chardonnay grapes into Italy's original Champagne lookalike. Since then, increasing numbers of wineries have taken to finishing off the fermentation process in bottle à la Champagne, to allow the wine to develop greater finesse and complexity with bottle age.

Trento DOC remains one of Italy's most important denominations for metodo classico wines and is outstripped in terms of production numbers only by Franciacorta DOCG. Often referred to as Trentodoc, the denomination, created in 1993, covers the mountainous area surrounding the city of Trento in northeastern Italy.

After a hand-harvest in September, the wine undergoes a gentle pressing and macerates with the skins for a brief time to extract just the right amount of color.

The wine has a salmon pink color. On the nose it is distinct and very refined, with the fresh fragrance of cherries, red currants, wild strawberries and almonds. The wine delivers a clean and elegant palate, with sour cherries, lemon zest, sweet almonds and a delicate, silky finish.

> For more information, visit the Ferrari official website.
Frank Family Vineyards, Carneros, Napa Valley, Rouge 2016
Origin: Carneros, Napa Valley, California
Varietals: 73% Pinot Noir, 27% Chardonnay
Price: $55.00
ABV: 12%

The grapes for this wine were left macerating much longer than usual so the rosé color evolved in a light red (rouge) color. The bubbles were obtained by following the traditional "Champagne" method and the wine rested on spent yeast cells for three years.

The wine shows a bright crimson red color with lively bubbles and aromas of bing cherry and rose petal. The palate reveals ripe cranberry, rounded out by hints of nutmeg and a creamy vanilla sensation for a lingering finish.

> For more information, visit the Frank Family Vineyards official website
Louis Bouillot, Crémant de Bourgogne Rosé
Origin: Nuits-Saint-Georges, France
Varietals: Chardonnay, Pinot Noir, Gamay
Price: $22.00
ABV: 12%

This rosé is made by carrying out a short maceration before pressing. The wine is then fermented following the traditional Crémant de Bourgogne production process, with a minimum ageing 12 months on lees in the bottle. After disgorgement, the wine received a dosage of 12 grams of sugar per liter.

With a light pink color, this wine offers a fine bouquet of raspberries, red currants and white blossom. The palate reveals fine bubbles and a delightful roundness with citrus notes and a fine fruity finish.

> For more information, visit the Louis Bouillot official website.
Scharffenberger Cellars, Brut Rosé
Origin: Mendocino, California
Varietals: 55% Pinot Noir, 45% Chardonnay
Price: $26.00
ABV: 12.5%

Scharffenberger Cellars has been pioneering Mendocino sparkling wine since 1981, with grapes sourced from Scharffenberger's own 120 acres of vineyards, as well as select vineyards in Mendocino County. Grapes grown in Mendocino County benefit from the cool coastal influences of the Pacific Ocean, preserving good acidity while delivering enough ripeness to make excellent sparkling wine.

Scharffenberger Brut Rosé is made using the méthode traditionelle process (as used in Champagne), whereby the wines are individually bottle-fermented before being riddled and disgorged. Most of the base wines undergo malolactic fermentation; the fruit balance and color are achieved by adding between four and five percent of Pinot Noir wine to the blend before undergoing second fermentation in the bottle.

The wine has a pale salmon hue with fine bubbles. The nose shows aromas of fresh raspberry jam, wild strawberries and a hint of cinnamon. The flavors are layered and well-balanced, delivering red fruit throughout the lingering finish.

> For more information, visit the Scharffenberger Cellars official website.