Pairing Sushi with Champagne
Matching Sushi and Veuve Clicquot's La Grande Dame
by Alain Gayot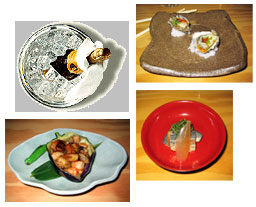 La Grande Dame loved sushi. And so do we, especially when the fish goes down with the refined wines of Veuve Clicquot. Frédéric Panaïot, a young and dynamic winemaker on the team in Reims wanted to show us that Champagne and sushi is a perfect food pairing; after all, fishes know their bubbles. Get chef Morihiro Onodera from Mori Sushi in Los Angeles involved and you get a sparkling meal. So we sampled and tasted and tasted and sampled and compared notes. Most of the combinations worked smoothly but what stood out was a tuna tartare with truffle (see photo) and the 1996 Vintage Reserve.
The Champagne's distinct, slightly smoky first taste and the soft texture of the Ahi complemented by the harder truffle chunks ignited our mouths with pleasure when it was washed down by the sensual bubbles of the 1996. The complicity of the color of the flesh of the fish and the deeper Rosé added to the sensuous experience.
We loved the 1993 La Grande Dame Rosé as a wine by itself, but the combo of the Ahi and the 1996's distinct flavors kept us mesmerized, our palates enthused and our bellies very happy.
Sushi, Sashimi, or Crudo (as the Italians would say) in general work well with Champagne. The usual pairing at sushi restaurants with beer or sake is due to environmental factors. But as long as you have a controlled amount of soy and wasabi (in traditional restaurants the chef presets the amount of wasabi used), most Champagnes will not only hold well against the raw fish but actually enhance the experience. The umami flavors blend together perfectly in this kind of pairing. The earthy and oceanic tastes come together with yeast acting as a catalyst. The high acidity in the wine cuts through the oiliness of the fish and the lesser acidity brought by use of rice wine vinegar. Also, Pinot Noir, by itself, seems to be one of the wines that works well with sushi. Due to the dominance of Pinot Noir in this Rosé blend, and the presence of Pinot Meunier, all the allied factors made for a successful experience.
A toast to the master chef and winemaker Mori and Fred respectively.


Related Content:

Pairing Champagne Dom Perignon Vintage 1999

Pairing Sushi and Wine

Pairing Oysters and Wine
Wine Education
| | |
| --- | --- |
| PMS102610 | (Updated: 10/04/13 BH) |