News for Restaurants in San Francisco
June 2018 Archive
Search / Openings / Closings / Chef Shuffle / News Bytes / Sign up for our free, monthly newsletter / News Archive
Want to know who's doing what in your city? Gayot has the restaurant news you want to read on openings, closings, special events, and more. Learn everything you need to know about the restaurants in San Francisco here.
Openings
Opening in Summer 2018,
Piri Pica
will bring casual Portuguese cooking to the Mission (Frjtz is moving just around the corner). Chef Telmo Faria, a native of the Azores, has enjoyed much success with his first, more upscale venture Uma Casa, located in Noe Valley; this new restaurant is a venture with London expat Khalid Mushasha of Lolinda. With Piri Pica, Faria and Mushasha hope to bring piri piri chicken – flame-grilled chicken marinated in a blend of punchy flavors, including the piri piri chili pepper for which the dish is named – to the San Francisco mainstream, along with other fast-casual Portuguese dishes that include shrimp, pork and vegetables. Once open, the restaurant will serve lunch and dinner daily. Piri Pica, 590 Valencia St., San Francisco, CA 94110, no phone.
At
Besharam
, which roughly means "shameless" in Urdu, chef Heena Patel puts a California spin on the flavors and dishes she experienced as a child in India. The restaurant has added dinner hours, in addition to its lunch service. Stay tuned for weekend brunch to be added soon. Besharam, 1275 Minnesota St., San Francisco, CA 94107, 415-580-7662.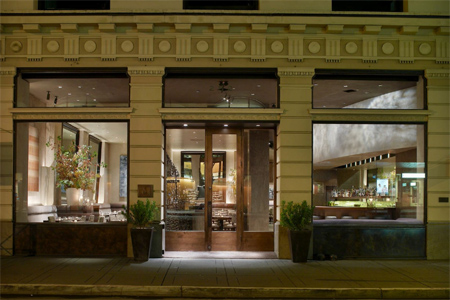 Michael Mina Brings in Middle Eastern Flavors
Chef Michael Mina
is mixing things up at his flagship restaurant,
Michael Mina
, in San Francisco. The menu has evolved to feature
Middle Eastern flavors, in celebration of the chef/restaurateur's Egyptian upbringing
. Expect new offerings like glazed Egyptian mango with foie gras, candied ginger and MINA spice. Michael Mina, 252 California St., San Francisco, CA 94111, 415-397-9222.
Check back soon for more news.
Check back soon for more news.
View our calendar of Wine Dinners & Tastings in San Francisco
| | |
| --- | --- |
| Discover the top restaurants in the San Francisco/Bay Area for various cuisines and categories like sushi, steakhouses, happy hours, romantic dining and even gourmet food trucks. Find the best restaurants in SF here! | |
View archived news: August 2020 | June 2020 | March 2020 | January 2020 | October 2019 | September 2019 | August 2019 | July 2019 | June 2019 | May 2019 | April 2019 | March 2019 | February 2019 | January 2019 | December 2018 | October 2018 | July 2018 | June 2018 | May 2018 | April 2018 | March 2018 | February 2018 | January 2018 | December 2017 | November 2017 | September 2017 | August 2017 | July 2017 | June 2017 | April 2017 | March 2017 | February 2017 | January 2017 | December 2016 | November 2016 | October 2016 | September 2016 | August 2016 | July 2016 | June 2016 | May 2016 | April 2016 | March 2016 | February 2016 | January 2016 | December 2015 | November 2015 | October 2015 | September 2015 | August 2015 | July 2015 | June 2015 | May 2015 | April 2015 | March 2015 | February 2015 | January 2015 | December 2014 | November 2014 | October 2014 | September 2014 | August 2014 | July 2014 | June 2014 | May 2014 | April 2014 | March 2014 | February 2014 | January 2014 | December 2013 | November 2013 | October 2013 | September 2013 | August 2013 | July 2013 | June 2013 | May 2013 | April 2013 | March 2013 | February 2013 | January 2013 | December 2012 | November 2012 | October 2012 | September 2012 | August 2012 | July 2012 | June 2012 | May 2012 | April 2012 | March 2012 | February 2012 | January 2012 | December 2011 | November 2011 | October 2011 | September 2011 | August 2011 | July 2011 | June 2011 | May 2011 | April 2011 | March 2011 | February 2011 | January 2011 | December 2010 | November 2010 | October 2010 | September 2010 | August 2010 | July 2010 | June 2010 | May 2010 | April 2010 | March 2010 | February 2010 | January 2010 | December 2009 | November 2009 | October 2009 | September 2009 | August 2009 | July 2009 | June 2009 | May 2009 | April 2009 | March 2009 | February 2009 | January 2009 | December 2008 | November 2008 | October 2008 | September 2008 | August 2008 | July 2008 | June 2008 | May 2008 | April 2008 | March 2008
Wine of the Week
Review by GAYOT